"Accademia Baltica" continues the Baltic collaboration
On 13 October 2019, Lithuanian Academy of Music and Theatre will host the concert of chamber orchestra Accademia Baltica under the baton of Modestas Barkauskas (Lithuania). Accademia Baltica will perform Concerto for Two Oboes and String Orchestra (1982) by Pēteris Plakidis, "Southern Gates" (1994) – Third movement from cycle "Gates of Jerusalem" by Bronius Kutavičius, "Illusion" (1993) by Erkki-Sven Tüür and Symphony No. 7 by Ludwig van Beethoven. The concert will take place in the LMTA Great Hall (Gedimino Ave. 43, Vilnius).  
All the Baltic countries celebrated their Centenaries in 2018, and both Jāzeps Vītols Latvian Academy of Music and Estonian Academy of Music and Theatre are celebrating their 100th anniversaries in the season of  2019/2020. The common idea was to create lasting values to honour the historic anniversaries. Establishment of the Baltic Student Symphony Orchestra was one of such lasting values. In 2017 and 2018 the Baltic Academies Student Symphony Orchestra performed in all the Baltic states including capitals and regional concert halls, as well as in Gdansk and Berlin, in 2019 Accademia Baltica chamber orchestra returns on the stages of Riga, Vilnius and Tallinn, and for the first time will meet the audience in Helsinki and St. Petersburg reviving historic cultural crossroads of the Baltic musicians. During the tours the orchestra was conducted by Kristjan Järvi (EE), Modestas Barkauskas (LT), Andris Vecumnieks and Guntis Kuzma (LV).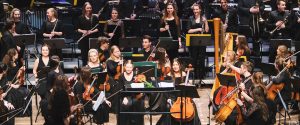 The Baltic countries can be proud of their rich cultural heritage including the Song Festival traditions and outstanding achievements of contemporary musicians on the world stages – to mention only the worldwide famous conductors Mariss Jansons and Andris Nelsons,  Järvi dynasty of conductors – Neeme, Paavo and Kristjan, Modestas Pitrenas, Gintaras Rinkevicius and rising star Mirga Gražinytė-Tyla. The strong regional cultural identity was noted many years ago by the Riga-born violinist Gidon Kremer who founded now world famous Kremerata Baltica chamber orchestra. Its foundation was a powerful stimulus for improving string instrument performance traditions in the Baltic countries. Now the first Kremeratini are principals of National symphonic orchestras in their countries and teachers at the Baltic Academies of Music, excellent soloists and chamber musicians. It is a result of combination of having good basis in the form of previous education with the impact and tuition by the best musicians in Europe which was ensured by Gidon Kremer and his numerous friends in music.
We believe that young musicians studying at the Academies of Music of Riga, Tallinn and Vilnius should develop creative contacts and feeling of belonging to a special cultural area – the Baltic Sea Region. 
At the turning point of the Centenaries of the countries and Academies of Music which is a good time to evaluate past and build up plans for the future we wanted to create an opportunity for the most promising young Baltic musicians who are still at the beginning of their careers to understand the importance of creative togetherness and continuation of this collaboration also in their future professional life.
Performances of Accademia Baltica are a result of collaboration between young musicians and their mentors and stage partners – first of all Modestas Barkauskas, one of the most exciting conductors of the younger generation in the Baltics, and two excellent soloists oboists Robertas Beinaris and Egils Upatnieks.
Concert programmes offer possibility to make acquaintance with sufficiently different contemporary composers of Estonia, Latvia and Lithuania – Erkki Sven Tüür, Pēteris Plakidis, Bronius Kutavičius and Justė Janulytė,  as well as to evaluate the reading of Ludwig van Beethoven`s 7th symphony by the young musicians.
This tour includes 6 concerts of Accademia Baltica – October 12 /Riga/, October 13 /Vilnius/, October 15 /new concert hall of the Estonian Academy of Music and Theatre/, October 17 /Helsinki Music Centre/, as well as two concerts in St.Petersburg in frames of the International Conservatory Week Festival: Festival opening concert on October 19 in the world famous St.Petersburg Philharmonic hall and on October 20 – "Jaani Kirik", one of the best concert halls in St.Petersburg. 
2019 10 07