Á. Shilling about future students: They have to be happy open-minded artists
It seems like in his 30 years of professional experience, Hungarian theatre director Árpád Shilling has already done everything. He has directed theatre, opera, and circus performances; he has worked as a playwright and a creative mentor and his works have been acclaimed at world-renowned theatre festivals. But there is still one thing missing – Schilling has never had an independent class of students in any kind of art school. Not until now.
This autumn, Schilling is to start a new chapter of his career as a course leader at the Klaipėda faculty of the Lithuanian Academy of Music and Theatre working with students in Theatre and Events Directing. 
Juta Liutkevičiūtė
 You are about to lead a course in Theatre and Event Directing at the LMTA. What is this programme about?
The Theatre and Event Directing studies are a cutting-edge programme that can give students a wide set of skills. In the 21st century, we can no longer imagine theatre just like a building or an institution with directors and actors inside it. Under new circumstances, people have to be ready for very different jobs. It is not only about working in the theatre in its traditional form, but also creating indoor and outdoor performances, being ready to organise events, participating in educational projects. Theatre is a very social place, so we must communicate and work with other people. It is a political place in the sense of its social sensitivity and communication forms.  
We can learn absolutely classical theatre forms, but for me, the most important thing is staying open. I do not have a style I want my students to follow; it is much more important how they can imagine their own art.
Imagine that these four years at the Academy have passed. What result would make you content with your work?
I do not really care if these students become very famous directors at certain theatre institutions and if they become successful at international festivals. The most important thing is how they can be self-confident and open-minded for the world. Theatre is a great place to get to know yourself and understand your relationship with other people. It's a very psychological aspect of creativity.
Of course, I would be happy if some of the students became very traditional theatre directors. But this curriculum is exceptionally contemporary, it opens the doors to the theatre while not being super closed, dedicated only to theatre people who just live in a dark room with artificial lights and visual concepts. We must stay open to other art forms. I imagine my students as open-minded people. Their Lithuanian roots are very important, but they should stay open-minded European citizens. 
So, what I hear is that for you as a course leader the key concept is universality.
I believe that in the future it will be more and more complicated to choose a classical way of being a theatre director or actor in a traditional institution. From what I see, what is happening in the culture, I'm convinced there will be less and less support in the culture field. If there is an economic or any other kind of crisis, the first thing to impose restrictions on is culture. There are so many young people all over Europe who are creative in many ways and they're trying to find their place in culture, but there will be fewer chances to do it in the classical way.
If you graduate and are prepared for a classical way of work, you might be in a trap. To avoid depression and frustration, it is important to get ready for very, very different jobs. It is a curse to be stuck with only one dream and believe that your diploma will make it come true, that you will become a theatre director in an institution you have always dreamed of. So what if you don't become one? Does it mean you are unsuccessful even though you can use your skills somewhere else? In this situation, I do not believe in the American dream –  that you just have to work hard and you will achieve your dream. It is an illusion that doesn't take into account the constantly changing circumstances. It is very important for me how these young people can be adaptive, let's say: okay, if I can't do this, I can choose another thing, I want to use my skills elsewhere, but I cannot be unhappy because I am not in the biggest theatre and I'm a loser. The winner is who is in, and the loser is who is out. We have to stop this kind of thinking. 
You have 29 years of experience working in the theatre. Bearing in mind your expertise and wide network, you could continue working with international teams, present your work at world-renowned theatre festivals; yet, you've chosen to start an independent class of directors here, in Lithuania. What's in it there for you?
I was very close to having my own class in Hungary, but I couldn't accept the offer because I didn't get enough freedom. Luckily, I have very good friends in Lithuania. Actor and director, founder of the Klaipeda Youth Theatre Valentinas Masalskis came up with this idea and I could not resist. I love working with Valentinas: I appreciate him not only as a theatre professional, but as a teacher as well. I like his way of thinking: he is an open-minded person and I really believe in his talent and decisions. I love working with Lithuanian actors and I have good relations with Lithuanian theatres.  I feel like I have the support and all necessary tools for this work –  this is very inspiring. 
In the last few years, I have been quite successful working both individually and with my company. But the international festival life has become less and less interesting for me. In this festival life, I did not see the purpose of building a wider network. A more interesting angle for me has been the social aspect of theatre, what can we do to use our skills for society. This is what I tried to do in Hungary till the point when I gave up because of the political atmosphere. I left the country and I have not worked there for more than 6 years.
The chance to teach gives me enough time to work on social aspects of theatre, it is a real laboratory. I want to learn as much as I want to teach. It can be a big chance for me personally to be richer in my mind, in my soul and I didn't want to refuse it. But it is not so easy because I can't settle in Lithuania, I will have to travel. I'll lead the class and take full responsibility for the students, and I'm going to have some help from Rugilė Latvėnaitė and Paulius Pinigis who will be my co-workers. Valentinas and the Klaipėda Youth Theatre are also a huge support for me. 
How much time are you planning to spend in Klaipeda, Lithuania, working with students directly?
The plan is to be in Lithuania for 12 weeks each year. Altogether, it is three months of very intensive work separated by two-week periods when students will work only with me, while there will be no other courses.  
From my experience of workshops, this camp-like teamwork can be very intensive, but it gives special experiences. It is totally different from being together for two hours and going home – in our case, we will be together for two weeks and one month later, two weeks again. In between these periods, Paulius and Rugilė will continue the work; the communication between us will be permanent so I will be able to follow the development of students' work. 
What is your take on the Lithuanian theatre? In an interview, you once said that the Lithuanian theatre audience is very patient because you've never seen theatre performances that have such a long duration as here.
I am no expert, but I have experience of working with three different theatres in Lithuania where I've met actors of different generations. What I've seen I like it very much. The actors seem to be very engaged, and creative. Last time I worked with the Youth Theater in Vilnius, I was pleasantly surprised by how all the 23 actors were enthusiastic. They were there from the beginning till the end, staying focused and following the instructions; but if they didn't agree on something, they would tell me, and we worked on it. I've met lots of people who are critical and have a very good sense of humour. The irony and humour are very close in Lithuania and Hungary because of the Soviet memories. I understand how people think and it helps me.  
For non-theater people, this may sound a little bit strange: why it should be a big deal if people are working? Everybody's working, what's the big deal? But I have lots of experiences from very different theatres and I find my experience of the Lithuanian theatre unique.  
Maybe, sometimes, the Lithuanian theatre is too traditional. People come to an institution, they sit in a dark room and watch the stage with a big statement of some big famous man. When we have such gurus, we follow their rules without thinking.
This is why I like the Klaipeda Youth Theatre so much – I see how the young generation can figure out their own way to the theatre, making a music band, creating new type of children performances, or working with aesthetics. This is a theatre that works like a community project, not a place with one director to be followed. In the 21st century, we cannot accept the concept of a big leader. Somehow, we have to understand how we can build less hierarchical structures and a more balanced relation between directors and actors, dramaturgs, scenographers and others.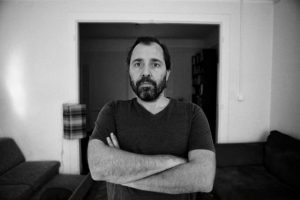 I do understand the problem of an authoritarian theatre director, but still, a young person just entering this field usually needs a mentor, a teacher, someone to rely on or even follow for some time. Are you planning to become such a figure yourself?
If you are a teacher, you must be ready to deconstruct your position. To find a way to be direct and inspire young people to act the same. If you are a leader and everything what you say is like an order, it is the worst scenario in pedagogy. My job is to give a frame so that inside it the student can find their freedom.
I don't know what will happen in ten years, so I can't tell them that if you want to be a good theatre director, you have to do this or that. What if ten years later it will be completely different? What I must give them is a safe space without any kind of pressure to find their dreams and ideas. 
My new class will include a group of individuals with their own unique set of mind and I do not want to build a team, unless it's their choice. I'm a leader, but I am here for you and not vice versa. I don't want to see myself in anybody. It's much more interesting to see the other character, the other person. 
The imagination is so great, but life sometimes can seem so short and small. I want to show them how we can find this bridge between our imagination and real life. It is a way to reach happiness, not the American style of happiness, but it is a way to be pleased. I don't think young people should be suffering and feel permanent pressure. They have to be happy open-minded artists, communicate with different people and able to build useful happy communities.
So, your course is like a dream coming true: happiness, joy, freedom of creativity…
I hear what you say: if the new program is cutting-edge, it must be fashionable – in other words, this is what you should say, this is what sounds good, no more tradition, just a new generation, you are all so beautiful and don't have to learn anything, just express what you think. No, no, no. There are some frames you have to accept, and this is what I learned myself as a student.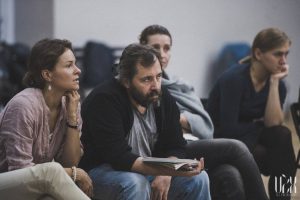 In 2000, you graduated from the Budapest University of Theatre and Film Arts. How do you recall your experience as a student? Was there anything similar to the philosophy of teaching you have been telling me about?
Times were different, the concept of school at that time in Hungary was very traditional. Back then, it was very clear that the teachers had to follow the way of the older masters, it was very important to put pressure on the students, we had to accept everything what the teachers said, everything was about hierarchy and respect, following without questions. The problem then was that the teachers didn't see the reality, the teachers were people with very clear theatre concepts but they didn't see lots of things from Europe and other art forms. Maybe it would have worked in the seventies when you lived in the Soviet times and there were prospects of going to the theatre and working there till the end of your life. But in the beginning of the 21st century, this completely changed and my teachers didn't know anything about a mobile and flexible way of thinking.  
Even though we didn't learn anything about other types of theatre, what I really got to know is how to respect the text, how to work with it, how to understand what is behind the words, how to understand the characters, the conflicts, and the classical dramaturgy as such. Also, my class supervising teacher was very consistent. In some questions, he was very narrow-minded, but he was very consistent, and this is something what students can learn from this traditional way. 
Now it is different, students have to know how to involve people in their creation, how to find the money for it, how to be flexible, travel, and learn. The world is much bigger than 20 or 40 years ago. There are new technologies, and we have to accept them; maybe we don't like them, maybe we don't want to work with them, but we have to know about them. Without this, we can't participate in social interactions. We cannot be people from the dark room of the theatre.
But the energy that comes from the teacher is only one side of the coin. These young people will have a chance to be together for four years. This is a big thing. They can inspire and learn from each other. Sometimes, the most important thing is meeting with other students and making plans, imagining future, and working together. 
Juta Liutkevičiūtė 
Edited by Viltė Gridasova 
12 May 2023