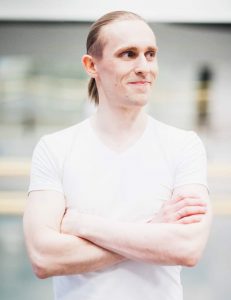 Lecturer at the Department of Dance of the LMTA Klaipėda Faculty. Subjects: Dance Studies, Dance Description, Lithuanian Folk Customs and Traditions and Folk Dance; Dance Composition and Improvisation. Languages: English (C2), Russian (B2).
---
Darius Berulis is a graduate of the Dance Department of the Arts Faculty of Klaipėda University (now – the LMTA Klaipėda Faculty) where he earned his Bachelor in Theatre (2012) and Master in Dance (2014), he joined the staff of his alma mater and since 2014 has been teaching there.
Darius Berulis' interests included dance composition, Lithuanian folk dance, dance description, and Lithuanian folk traditions and folk dances. Already during his bachelor's studies, Darius Berulis took initiative to create roles in various dance and interdisciplinary staged performances and other kinds of events. In 2014-2020, he was a dancer of the ballet troupe at the Klaipėda State Musical Theatre. Since 2010, Darius Berulis has taken part in the activities of the creative agency Žuvies akis (Fish Eye) in Klaipėda, Lithuania. He is now also a member of the Šeiko Dance Theatre (Klaipėda, Lithuania). The dancer has participated in numerous festivals and workshops all around the world: in, among others, Greenland, the USA, South Korea, China, Iceland, Sweden, Israel, and Russia.
Darius Berulis has created three dance staged performances and several Lithuanian folk dances, one of which was dedicated to the World Lithuanian Song Festival Čia mano namai (My Home is Here) in 2013. Darius Berulis was also the choreographer assistant at the presentations of the Lithuanian archaeological historical costumes at the world expositions EXPO 2012 and EXPO 2015.