Young Baltic talents on tour
Proudly celebrating the Centenaries of all three Baltic States, talented students from the Estonian Academy of Music and Theatre, Jāzeps Vītols Latvian Academy of Music, Lithuanian Academy of Music and Theatre and young musicians from other countries around the Baltic Sea will perform together by proclaiming freedom, togetherness, and shared sense of the Baltic and European culture.
Arvo Pärt, Pēteris Vasks and Mikalojus Konstantinas Čiurlionis are among other well-known classical composers whose music will be performed during the first international tour of the Baltic Academies Orchestra (BAO). Led by the charismatic conductor Kristian Järvi (Estonia) , Guntis Kuzma (Latvia) and Modestas Barkauskas (Lithuania), the orchestra will perform in Tartu (Estonia), Cēsis and Rēzekne (Latvia), Vilnius and Kaunas (Lithuania), Gdansk (Poland) and Berlin (Germany). The repertoire of the concerts also includes music by Tchaikovsky, Elgar and Mussorgsky.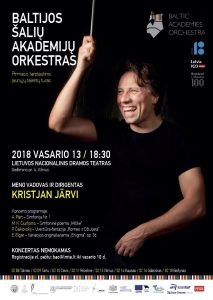 Kristjan Järvi has taken upon himself the artistic leadership of the BAO together with his colleagues from other Baltic countries – Guntis Kuzma form Latvia and Modestas Barkauskas form Lithuania. On the preparatory stage in Tartu the teachers from all three Music Academies in collaboration with outstanding musicians representing different countries will be working with the orchestra sections and offering masterclasses.
The Baltic composers' music highlights significant emphasis in the programmes of all concerts, outlining the regional identity of the orchestra and advancing listeners' interest about it, sharing the values and pointing out the distinctions, drawing the parallels and seeking for the interaction.
The Centenaries of the Baltic States is just the beginning of the BAO activities, and we wish the orchestra a long and fruitful future.
BAO project is supported and financed by the governments of Estonia, Latvia, Lithuania (Lithuanian Council for Culture, and the Ministry of Culture of the Republic of Lithuania), and EAS Enterprise Estonia. Opening the Centenary celebrations of the independence of three Baltic nations, BAO represents a major new cultural collaboration, presenting the greatest in Baltic culture – its music and talented musicians. 
Concerts:
08/02/2018    TALLINN
09/02/2018    TARTU
10/02/2018    CĒSIS
11/02/2018    RĒZEKNE
13/02/2018    VILNIUS
14/02/2018    KAUNAS
16/02/2018    GDANSK
18/02/2018    BERLIN
More about the project www.balticacademies.eu
———————————————————————————————–
BAO CONCERTS IN LITHUANIA
2018 February 13, Tuesday, 18:30
Lithuanian National Drama Theatre (Gedimino pr. 4, Vilnius)
Conductor – Kristjan Järvi
PROGRAMME 
Tickets: Free, no tickets required, but please register by e-mail: BAO@lmta.lt.

2018 February 14, W

ednesday,

18:00

Kaunas State Philharmonic (E. Ožeškienės str. 12, Kaunas)
Conductor – Modestas Barkauskas 
PROGRAMME 

Tickets: Free, no tickets required.