2023 November 30 and  December 1 
LMTA Balcony Theatre (Gedimino Ave. 42, Vilnius)
STAGE ART WORKS SKETCH COMPETITION "BALKONO OKUPACIJA"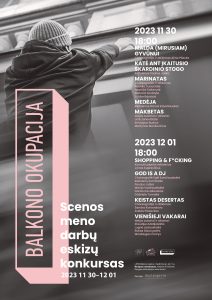 STAGE ART WORKS SKETCH COMPETITION "BALKONO OKUPACIJA" WILL BE HELD FOR THE NINTH TIME!
The competition provides space for young LMTA artists and their creative experiments.
The format of the sketches presented in the competition is contemporary stage art works (drama/music/dance/circus/opera performances, performances, installations, interdisciplinary art projects, etc.)
Participants have the opportunity to win a cash prize for the final implementation of the work.
PROGRAMME:
NOVEMBER 30, 18:00
– MALDA (MIRUSIAM) GYVŪNUI
Choreography and performance: Alina Pilecka
– KATĖ ANT ĮKAITUSIO SKARDINIO STOGO
Director Paulius Juška
Actors: Gabrielė Baubaitė, Eimantas Seselskis, Gabija Minkevičiūtė, Ainis Kazlauskas, Simonas Goptaitis, Kristupas Knispelis.
– MARINATAS
Choreography and performance: Rebeka Subačiūtė, Beatričė Šaltenytė, Barbora Groblytė, Eunike Karosas
– MEDĖJA
Director Danas Kavaliauskas
Actors: Elina Kuprijaškinaitė, Džiugas Šveikauskas
– MAKBETAS
Authors of idea and actors: Urtė Janavičiūtė, Kristupas Budrys, Martynas Mockevičius
DECEMBER 1, 18:00
– SHOPPING & F*UCKING
Consulting director Jonas Kuprevičius
Actors: Rūta Jonikaitė, Šarūnas Rapolas Meliešius, Samuelis Sauchatas, Gerardas Ciparis, Nojus Mikalauskas
– GOD IS A DJ
Choreographer Eglė Kančiauskaitė
Directors team: Paulius Juška, Marija Vasiliauskaitė, Danas Kavaliauskas, Gabrielė Tumaitė
Actors/dancers: Gabrielė Baubaitė, Ainis Kazlauskas, Dita Klinkaitė, Džiugas Šveikauskas, Eimantas Seselskis, Elina Kuprijaškinaitė, Gabija Minkevičiūtė, Gustas Vičkačka, Ignas Antanas Giniotis, Karolina Kildaitė, Kristupas Knispelis, Mila Ivanova, Simonas Goptaitis, Domas Urbonavičius, Viltė Paražinskaitė, Žygimantas Vainauskas
– KEISTAS DESERTAS
Choreography and performance: Sandra Konovalova, Aretas Piaseckas
– VIENIŠIEJI VAKARAI
Authors of idea and actors: Klaudijus Matijošaitis, Lugnė Ladauskaitė, Rokas Siaurusaitis, Mindaugas Činčys
Free entrance