INTERVIEW SERIES "CONVERSATIONS IN THE GREAT HALL": NELĖ SAVIČENKO AND JOVITA JANKELAITYTĖ
2023 November 23, Thursday, 18:00
LAMT Great Hall (Gedimino Ave. 42, Vilnius)
INTERVIEW SERIES "CONVERSATIONS IN THE GREAT HALL": NELĖ SAVIČENKO AND JOVITA JANKELAITYTĖ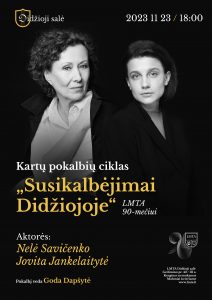 Actresses: Prof. Nelė Savičenko and Jovita Jankelaitytė
The conversation is moderated by Goda Dapšytė, lecturer of the LMTA Department of Art History and Theory, Doctor of humanitarian studies.
Conversations in the Great Hall is a series of talks that bring together acknowledged masters and aspiring young artists. The interviews are held in the Great Hall of the Lithuanian Academy of Music and Theatre. The cycle is part of the festive programme dedicated to the Academy's 90th anniversary.
Conversations in the Great Hall
events are free.