Three-year long Erasmus+ Strategic Partnership theatre project "Alexandria Nova" ended in Berlin
From 11 to 15 of May 2022, the Ernst Busch Academy of Dramatic Arts in Berlin hosted the workshop and closing symposium of the three-year long Erasmus+ Strategic Partnership project seeking to rethink the role of the 21st century theatre director and his/her educational strategies in theatre higher education institutions.
During the project, more than a hundred students and lecturers of the Faculty of Theatre and Film of the LMTA and Klaipėda Faculty have been involved in creative activities, artistic research, theoretical discourses, online lectures, international seminars in Oslo, Copenhagen, Helsinki, Vilnius, Reykjavik and Berlin.
The closing event in Berlin was crowned by the launch events of the newly published book "Looking for Direction: Rethinking Theatre Directing Practices and Pedagogies in the 21st Century" and related discussions. It is important to mention that the book contains publications by Yana Ross, Loreta Vaskova and Milda Sokolovaitė, and the introduction was written by Assoc. Professor, Dr. Ramunė Balevičiūtė.
The Erasmus+ project was coordinated by the Ernst Busch Academy of Dramatic Arts (Germany). The project partners include the Danish National School of Performing Arts (Denmark), Helsinki University of the Arts (Finland), Iceland University of the Arts (Iceland), Stockholm University of the Arts (Sweden), Oslo National Academy of the Arts (Norway), the Lithuanian Academy of Music and Theatre (Lithuania), and the São Paulo Drama School (Brazil; involved remotely). 
---
Impressions of LMTA lecturers and students from the closing event of the three-year long "Alexandria Nova" project at the Ernst Busch Academy of Dramatic Arts in Berlin
Augustas Gornatkevičius, director, lecturer at the Department of Acting and Directing:
"The issues of theatre directing and its teaching presented at the symposium, and discussed in the book that culminates the 'Alexandria Nova' project, are of great relevance and importance in the tumultuous times we now live in. The themes addressed in the discussions inspire us to keep searching for new ways to understand the art of directing, and to consider how to change and innovate the education of directors. Directing schools need to change in order to ensure a sustainable future for the profession, and I hope that the issues discussed in Berlin will find practical reflections in all the schools involved in the project".
Milda Pakamanytė, theatre directing student at the Department of Acting and Directing of the LMTA: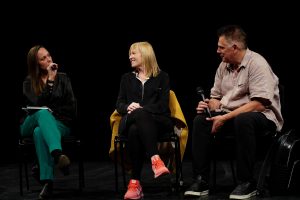 "I learned about the project during the first pandemic, and soon after, I took part in a virtual workshop. Even though the format itself was poor, I was still drawn in, because from the first discussions about theatre and working in it, I felt a big difference between Lithuanian and Western European artists. The differences in approaches and methods were obvious. I am also grateful to Finland for this project – it introduced me to the Helsinki Theatre Academy, where I spent the whole third year of my studies. As a student of this school, I was sent to Lithuania for a workshop this academic year, and later to Iceland and Berlin.
Although the organisational issues of the project in Iceland were a bit complicated, getting to know people from other countries in the theatre world, both teachers and students, is invaluable. For example, Sarah Woods, a British professor and director who led a social theatre workshop in Iceland, spent hours talking to me about war crimes in Ukraine and the importance of theatre in times of disaster. It is also very useful that, as you get more familiar with foreign visual arts studies, you become more critical of your own environment, weighing the pros and cons. You can step back and look at things from the outside, compare or even contrast. I have to admit that our Academy certainly has room for improvement.
As far as the closing of the project in Berlin is concerned, the symposium was organised very smoothly, with the exception of the lack of practical activities, but given that the whole week was dedicated to the launch of the 'Looking for Directions' book, the discussion format of the workshop seems justified. Of course, two days were dedicated to practice. A Brazilian professor who has reformed his country's theatre arts curriculum and fights for more racial, ethnic and identity diversity on stage was particularly impressive in his practical lecture on the power position.
In conclusion: our Academy should get involved with as many projects like this as possible. They bring fresh air, critical thinking and, you may get really angry with me for saying this, the realisation that Sluškai is not the centre of the world. There are many such centres and they are all important in their own way. I am slowly learning not to lose sight of that".
Aistė Rekašiūtė, a second year student of Theatre and Event Directing at the Klaipėda faculty of the LMTA:
"The 'Alexandria Nova' project was a breath of fresh air that was much needed. The sharing of experiences with students by lecturers from different countries, and the discussions between students themselves, were horizon-broadening events that helped to deepen knowledge and to think about issues that are relevant in different parts of the world. Having a large number of teachers, directors and theatre students in one place is a rare opportunity. It is also a great opportunity to watch plays abroad and then discuss them with each other. It was all a time of great and wonderful experiences. Absolutely mind-blowing. If it was possible, I would repeat this trip a hundred times!".
Akvilė Brazauskaitė, a second year student of Theatre and Event Directing at the Klaipėda faculty of the LMTA:
"It was incredibly nice to meet students from other countries! It was really good to share our discoveries, what problems we face and how we solve them! Discussing with directors, asking and answering questions! Lots of creative inspiration! Knowledge deepened and friendships made! An invaluable experience".
Dominykas Matulionis, a second year student of Theatre and Event Directing at the Klaipėda faculty of the LMTA:
"Theatre students and lecturers from several countries in one place. It may sound compromising and even a bit vulgar. We all live and breathe the same art, and thus the prejudice dissipates. 'Alexandria nova' inspires us to find our own rhythm of breathing. 'To take what is given, to use it, or to throw it away, or maybe to rewrite it', as the introduction to the new book for directors states. It encourages you to want to act'.
Vaidas Jaruševičius, a second year student of Theatre and Event Directing at the Klaipėda faculty of the LMTA:
"Interesting experience of international cooperation. We met people from different parts of the world, deepened our knowledge of the world of theatre and had a great time".
Ieva Tamoševičiūtė, a second year student of Theatre and Event Directing at the Klaipėda faculty of the LMTA:
"The lectures held during the project unequivocally broaden the horizons of future theatre directors: they allow to get acquainted with new techniques, methods, and specifics of work organisation. I especially appreciate the opportunity to visit the theatre festival in Berlin, which was held at the time – it is the most effective way to get to know and experience the peculiarities and expression of the country's theatre culture".
Simona Paulauskaitė, a second year student of Theatre and Event Directing at the Klaipėda faculty of the LMTA:
"I see this experience as a wonderful opportunity to get acquainted with the teaching methods of theatre higher education institutionsin different EU countries. I was most surprised by the fact that all the methods are so different, but everything is based on the same thing: freedom of theatrical expression, exploration of issues that are important to us, infinite respect for colleagues and their creativity, etc. We didn't waste any time during the project, as we had a chance to see not only the beautiful architecture of Berlin, but also several performances. I didn't spend enough time there to fully fall in love with German theatre though, as I believe the space in my heart for theatre has been strongly occupied by the Lithuanian theatre scene".
Mindaugas Minkevičius, a second year student of Theatre and Event Directing at the Klaipėda faculty of the LMTA:
"First of all, let me join all those who said that 'Alexandria Nova'opened the door to new acquaintances and gave me the opportunity to be among people whose aim was to share their knowledge with each other. Of course, sometimes fierce discussions would break out and turn into arguments, but these conversations would be followed by a lot of questions that would encourage each of us personally to rethink our approach to theatre, which is very healthy. It was also interesting to hear from students from other countries in terms of how they study, what they studyand thus compare it with our own studies, by pointing out all thepluses and minuses. It was also useful to learn what methods and techniques directors use in their rehearsals (we tried some of the exercises ourselves, which helped us to understand the theory better). In conclusion, I brought back to Lithuania a lot of questions, a lot of thoughts, new acquaintances and a desire to put the knowledge I gained into practice as soon as possible".
Information compiled by Department of Acting and Directing, LMTA International Relations Office 
20 May 2022