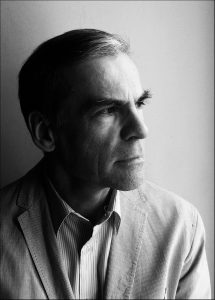 Professor of the LMTA Piano Department. Subjects: Piano. Languages: English (C1), Russian (C2), Estonian (C2).
---
Jurgis Karnavičius is Professor at the LMTA Piano Department (Head of the Department in 2011–2020). He was born in Vilnius, into a family of famous musicians. The creative personality of the aspiring artist was shaped by Edmundas Gedgaudas, his teacher at the National M. K. Čiurlionis School of Art; his father, Professor Jurgis Karnavičius, at the Lithuanian Academy of Music and Theatre; and Professor Lev Naumov, during the postgraduate studies at the Moscow State Tchaikovsky Conservatory.
Jurgis Karnavičius is a laureate of several competitions such as the All-Union M. K. Čiurlionis Piano Competition in Vilnius (1978, 1st award), Robert Schumann International Competition for Pianists and Singers in Zwickau (Germany), International Ludwig van Beethoven Piano Competition in Vienna (Austria), the Young Keyboard Artists Association International Piano Competition in Oberlin (the USA), and Mavi Marcoz International Piano Competition in Saint-Vincente (Italy). The pianist's repertoire includes music of various styles; yet, the special place is given to the works by Mozart, Beethoven, Schubert, Schumann, Liszt, Brahms, and French composers. Besides solo performances, pianist Jurgis Karnavičius has extensive experience in performing chamber music; he has given numerous concerts together with the Čiurlionis Quartet, the Vilnius String Quartet, the Kaunas String Quartet, as well as other ensembles and soloists. In 2005-2015, Jurgis Karnavičius was a regular member of the Gaida Ensemble and performed together with the ensemble at many contemporary music festivals. Jurgis Karnavičius is also a regular concert partner of his spouse, singer Sigutė Stonytė.
The touring geography of musician Jurgis Karnavičius covers Europe, the United States, Canada, and South Korea. The pianist's performances are recorded on compact discs Vytautas Bacevičius. Poemos fortepijonui (Poems for Piano) and Neatpažinti M.K. Čiurlionio muzikos ciklai (The Yet Undiscovered Music Cycles by M.K. Čiurlionis).
Jurgis Karnavičius joined the teaching staff of the Academy (then – The Lithuanian Conservatory) in 1981 and became a professor in 2004.  During his teaching career, over 50 students have graduated from Professor's piano class. The pianist is a frequent member of evaluation committees at various international competitions such as M. K. Čiurlionis Piano Competition (Lithuania), Stasys Vainiūnas Piano and Chamber Ensemble Competition (Lithuania), and Jāzeps Vītols Piano Competition (Latvia). The acclaimed pianist enjoys leading piano master classes in Lithuania and abroad (Paris National Conservatory of Music and Dance (France), the Sibelius Academy in Helsinki (Finland), Lisbon Escola Superior de Música (Portugal) and others).
Apart from professional and teaching career, Jurgis Karnavičius is actively involved in sports: he has repeatedly become the winner of Lithuanian orienteering championships. Professor is also interested in the art of photography.