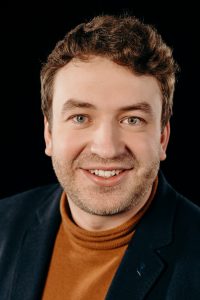 Lecturer at the LMTA Department of Acting and Directing. Subjects: Clown Performance, History of Clowning, Clowning Therapy. Languages:  English (C1), Russian (B2). 
---
Žilvinas Beniušis is a theatre and television actor, a director and a professional clown. In 2015, Žilvinas Beniušis earned a degree in theatre art education and two years later was granted the status of a professional clown after graduating from the International School of Humour (Vienna, Austria) where he had an opportunity to learn from some of the best clown teachers in Europe. In 2018, Žilvinas Beniušis studied at the world-famous international theatre school Ecole Philippe Gaulier in Paris, France.
Since 2010, he has worked as an actor, training manager and one of the founders of the Raudonos Nosys (Red Noses ClownDoctors) in Lithuania, being responsible for the selection and training of new clowns.
Currently, Žilvinas Beniušis is an eager creator and contributor into contemporary clowning and circus performances for both the youngest spectators and the adult audience in the theatres of Lithuania. His professional activity, the workshops he leads and the presentations he makes at art education conferences are all aimed at developing and upgrading the Lithuanian contemporary circus, clown performances, and laughter culture to a more professional level. He also acts in TV comedy shows.
In 2016, Žilvinas Beniušis founded a theatre studio and his numerous students have become acknowledged theatre and television actors. In 2020, he founded Contemporary Intellectual Clown Theatre where he, in cooperation with other Lithuanian theatre, actively creates performances. He is also determined to promote street theatre in Lithuania.
Žilvinas Beniušis has thoroughly studied different systems and history of professional clowning; besides, he has been searching for innovative forms of performance. Yet, he is equally interested in the development of the systems of the actor's professional skills.