ONLINE SEMINARS IN THE FRAME OF II BALTIC STRINGS INTERNATIONAL COMPETITION-FESTIVAL 2022
2022 November 21, 6 p.m. – "Bond2tradition: a Licence to Interpret" (Lecturer Assoc. Prof. Gediminas Dačinskas)
2022 November 25, 6 p.m. – "Physical Disorders of Performers and Their Prevention" (Lecturer Prof. Dr. Indrė Baikštytė)
ONLINE SEMINARS IN THE FRAME OF II BALTIC STRINGS INTERNATIONAL COMPETITION-FESTIVAL 2022
Indrė Baikštytė graduated Lithuanian Academy of Music and Theatre, improved her skills at the Berlin University of the Arts, in 2015 pianist was granted Doctor of Arts degree by the LMTA. I. Baikštytė is a laureate of many international solo, concertmaster and chamber ensemble competitions, she also won first prizes as a member of the piano trio "FortVio" – in 2015 ensemble became the Winner of the Culture and Art award of the Government of the Republic of Lithuania. The pianist plays solo with orchestras, actively collaborates with Lithuanian and foreign instrumentalists, willingly performs contemporary music, promotes the work of Lithuanian composers. I. Baikštytė is a professor of the Department of Chamber Ensemble at LMTA and Head of the Contemporary and Improvisational Music specialization.
Physical Disorders of Performers and Their Prevention
Performing art is directly related to the physiological processes of creative activity – to the performer's posture, movement coordination, breathing, blood circulation, as well as to the biochemical processes of the human brain. All this directly affects the success and results of creative work. For active and creative performers who link their future with instrument management and stage activities, it is strongly recommended to pay attention to all these issues and take care of their physical health. During the seminar, the somatic and vegetative expressions of the performers' nervous system, as well as stress and its management methods, will be discussed. It has already been proven that after assessing their physical condition and adapting appropriate ways of managing it, performers could feel more stable, prevent the most common physical disorders of performers, or deal with them properly if they do occur.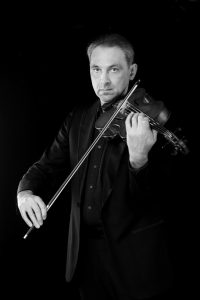 Gediminas Dačinskas studied at the Lithuanian Academy of Music and Theatre and at the University Mozarteum Salzburg. Since 2003, the musician has devoted a major part of his professional activity to the Čiurlionis Quartet, a state-funded division of the Lithuanian National Philharmonic Society. Gediminas Dačinskas has played solo with the Lithuanian National Symphony Orchestra, the Klaipėda and Šiauliai Chamber Orchestras, the Gaida Festival Ensemble, Salzburg Orchestra Pro Musica, the Mozarteum University Symphony Orchestra, and others. Since 1998, Gediminas Dačinskas has taken part in the activity of the Vilnius New Music Ensemble, has played, among others, with ensembles Trio Advance, Vilnius String Quartet, The Camerata Salzburg and Darmstadt State Opera. Apart from teaching at the Lithuanian Academy of Music and Theatre that violist joined in 2009, he also give master classes in Lithuania and abroad.
"Bond2tradition: a Licence to Interpret"
Young aspiring musicians are confronted with enormous pressure, coming from a decade-long exposure to established patterns of interpretation devolved from teaching stuff of elder generations. Is an artistic independence just ever-fading chimere? What are important decisions to make, trailing own path in a flourishing variety of academic mastery? And where the thin line between a living tradition and worn out cliche lays? Let's explore some decisive aspects and useful tools in this for centuries relevant discourse. So, let's acquire ourselves an important licence – to interpret.
Registration form: https://forms.gle/L4UY4zSm15T6VhLi8
More information: styginiukatedra@gmail.com