A SERIES OF VIRTUAL PERFORMANCES IN MAY
The Lithuanian Academy of Music and Theatre invites to enjoy recordings of the most compelling concerts, stage performances, meetings, short films, and even watch four sets of live electronic music!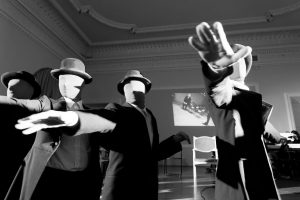 From May 4 to 29 TV.LMTA.LT, the Internet platform, specifically designed for that purpose, will broadcast a variety of events. IMPORTANT: the recordings of the events will only be available on the specified date and time! Don't miss a chance to watch the event you are interested in.
Тhe Virtual Programme starts оn 4 May, 7 pm, with a concert by the Accademia Baltica Orchestra by conductor Modestas Barkauskas. The concert took place on 13 October 2019 in the LMTA Great Hall. Soloists: Egils Upatnieks (oboe, Latvia), Robertas Beinaris (oboe).
6 May, 7 pm, gives us a chance to revisit a conversation between theatre director Oskaras Koršunovas and theatre critic Ramunė Marcinkevičiūtė that took place in 2015 in the LMTA Great Hall within a cycle of recitals Masters in the Great Hall featuring laureates of Lithuanian National Culture and Art Awards. 
On 8, 13, 22 and 29 May, spectators are invited to concerts of live electronic music. On 8 May, 7 pm, you can enjoy LIVE: Vecera, a concert by Paulius Večera, an LMTA Digital Technologies student. On 13 May, 8:30 pm, we will be streaming live performance by Bjelle – Raminta Naujanytė, an LMTA Doctoral Student. On 22 May, 9 pm, composer and LMTA lecturer Jonas Jurkūnas will perform his work LIVE: Robotic Folk. And on 29 May, 7 pm, we invite you to the live electronic music set by Covarnis & Resonant Digit.
On 11 May, 7 pm, we can watch a performance A Dream Play directed by Kamilė Gudmonaitė, based on the play by A. Strindber. Actors: Danas Kamarauskas, Mantas Zemleckas, Gražvydas Staigvilas, Aurimas Bačinskas, Balys Ivanauskas, Gytis Laskovas and others. Created in 2016, the performance was filmed at the Lithuanian National Drama Theatre Chamber Hall.
15 May, 7 pm, invites fans of music videos to their computer screens. We will broadcast a series of music videos created by students of LMTA Department of Film and Television for the songs by Girmantė Vaitkutė, Mantas Jankavičius, Alen Chicco, Golden Parazyth, Garbanotas bosistas, Saulės kliošas, Solo Ansamblis, Banda Dzeta, Kedrostubùras, Without letters, Šuo leila, 41 rūsys and others.
On 18 May, 7 pm, you are invited to the lecture Mythology of Lithuanian Composition School prepared and delivered by the composer Ričardas Kabelis in the LMTA Spatial Sound Sphere. The lectures were recorded on 26 September, 2019, as a part of the KISS (Studio of Creative and Informative Meetings) project run by LMTA.
On 20 May, 7 pm, we will stream Nosferatu: A Symphony of Horror, a 1922 silent German Expressionist horror film directed by F. W. Murnau, with Marius Salynas' music created in 2017 for the Scanorama Festival.
25 May, 7 pm, invites fans of folk music. We will stream videos made during the project One Lithuania – Five Ethnographical Worlds (Viena Lietuva – penki etnopasauliai) in 2015–2017.
May 20, 7 pm, offers a series of short films created by LMTA students: I'm Twenty Something (directed by Marija Kavtaradzė, 2014), The Last Day (directed by Klaudija Matvejevaitė, 2017), Family Unit (directed by Titas Laucius, 2018), The Corner (directed by Klementas Leonas Davidavičius, 2019), and Commission (directed by Vytautas Oškinis, 2019).
LMTA information 
5 May 2020