DEDICATION FOR PROFESSOR OLGA ŠTEINBERG
2021 September 9, Thursday, 18:00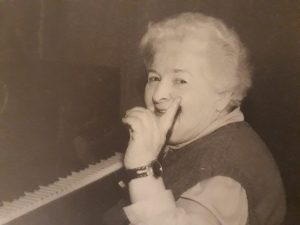 LMTA Building 1: Great Hall (Gedimino Ave. 42, Vilnius)
DEDICATION FOR PROFESSOR OLGA ŠTEINBERG (1920–2020) 
Perfomers – pupils and colleagues of Olga Šteinberg: Prof. Aleksandra Žvirblytė, Povilas Jaraminas, Gabrielė Kondrotaitė, Piano trio "FortVio", Prof. Dalia Balsytė, Prof. Aušra Motuzienė, Prof. Dr. Rita Aleknaitė-Bieliauskienė, Prof. Veronika Vitaitė, Prof. Rūta Rikterė.
Programme: F. Chopin, J. Brahms, S. Rachmaninov.
Persons older than 6 years of age must wear a protective mask covering the nose and mouth (face mask, respirator, etc.). According to the decision of the Head of Operations of the Government of the Republic of Lithuania from 13 September 2021 only persons with the National Certificate (the Opportunity Passport) can participate in the events.