STRING QUARTET AND CHAMBER ENSEMBLE MASTER CLASSES
2023 April 4-5
LAMT Congress Hall, rooms 219 and 203 (Vilniaus Str. 6-2, Vilnius)
STRING QUARTET AND CHAMBER ENSEMBLE MASTER CLASSES
By Professor PETR PRAUSE of the Royal Northern College of Music (Manchester, England).
---
Registration until March 30th: renatas.jankevicius@lmta.lt
---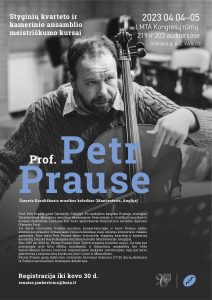 Prof. Petr Prause was born in Ostrava, Czech Republic. After graduating from school in Prague, he studied at the International Menuhin Academy of Music in Switzerland and at the Guildhall School of Music and Drama in London, where he was awarded the Diploma in Concert Recital (Premier Prix).
He taught cello at the Prague Conservatory of Music and was principal cellist of the Prague Radio Symphony Orchestra, performing as a soloist around the world. Petr Prause currently teaches cello, string quartet and chamber ensemble at the Royal Northern College of Music in Manchester (England).
From 1997 to 2019 Petr Prause was a member of the Talich String Quartet. He also joins other distinguished musicians and chamber ensembles and conducts masterclasses at various international training institutions, and has been invited to the juries of international competitions in Lyon and Munich.
Petr Prause plays an exceptional cello by Giovanni Grancino (1710), which he borrows from the collection of the Czech National Museum.
Prof. P. Prause masterclasses schedule