"SUMMER MEDIA STUDIO 2021" REGISTRATION IS NOW OPEN
Call for applications for participation in Summer Media Studio 2021 is now open. For the twenty-third time Lithuanian Academy of Music and Theatre (LMTA) together with Audiovisual Arts Industry Incubator (AMII) organizes the international workshop for film school students and young professionals. The project will take place in Pervalka, Neringa peninsula, Lithuania and will lasts for two weeks – from the 23rd of June to the 5th of July, 2021.
The application deadline is 23:59 on the 20th May, 2021.
Summer Media Studio (SMS) focuses on the most essential and relevant subjects of films, searching for new important topics, which would explore theoretical and practical knowledge of young Audiovisual arts students in the field of the professional cinematography. It is an intensive two-week workshop, which includes theoretical part with lectures given by experienced lecturers and a practical part: filming in international crews.
Each year SMS is dedicated to a different aspect of audiovisual industry. SMS 2021 is inviting the participants to explore location scouting curiosities in the unique landscape of Neringa and Klaipėda. There are no limits on film genre – the inspiration is all that matters! Workshop surroundings offers wide selection of locations, from sandy beaches by the Baltic sea and small villages by the lagoon to truly urbanistic streets of Klaipėda or historical vibe of the city's oldtown with it's neoclassic architecture.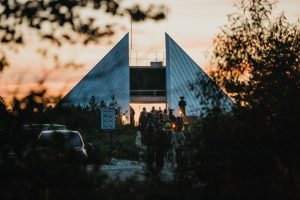 50 participants from all over the world will be invited to participate in a series of lectures, individual consultations, pitch their ideas for a short film, shoot, edit and present their works. The workflow of film making will be guided by industry professionals, tutors: director and producer Jonathan Tammuz (GB/CA), producer Paul Nethercott (US) and composer Mantautas Krukauskas (LT).
The participation fee for Summer Media Studio 2021 is 300 EUR, including tuition, accommodation, local travel and meals.
More information on the lectures, schedule, application procedure: http://www.summermediastudio.lt
For more information: Vaiva Martišauskaitė, coordinator of Summer Media Studio 2021: summermediastudio@lmta.lt. 
Organizers information
2021 05 04