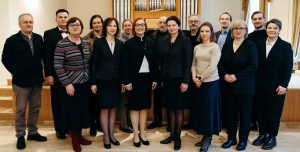 The Senate of the Lithuanian Academy of Music and Theatre (LMTA) is a symbol and proof of autonomy and self-government of universities established in the Constitution of the Republic of Lithuania. This governing body is democratically elected by the entire LMTA academic community.  Four-fifths of the Senate consist of teaching staff and researchers and one-fifth is students. Any member of the academic community can be elected a senator and can as well participate in the election of this responsible and honourable self-government body.
The Senate sets and approves the major guidelines for the LMTA activities, discusses the most relevant issues and looks for their most appropriate solutions, and strives for transparency and openness in their work, as drafting and passing the Academy's regulations is the prerogative of the Senate while the Rectorate acts as an executive authority.
The current Senate was elected on 19 May 2016 for a five-year term and represents the entire LMTA academic community. The implementation of the Academy's academic, artistic and scientific activities and its further development prospects depend on the integrity, creativity and initiative of the Senate. 
---
MEMBERS OF LMTA SENATE
LINA NAVICKAITĖ-MARTINELLI, Chairperson, Professor, Dr.
RŪTA GIRDZIJAUSKIENĖ, Vice-Chairperson, Professor, Dr.
MANTAUTAS KRUKAUSKAS, Senate Secretary, Assoc. Professor
ASTA KRIKŠČIŪNAITĖ, Professor
RŪTA LIPINAITYTĖ, Professor, Dr.
VALENTINAS MASALSKIS, Professor
ARŪNAS MATELIS, Professor
LEONIDAS MELNIKAS, Professor, Habil. Dr. 
DARIUS MEŠKAUSKAS, Professor
RŪTA RIKTERĖ, Professor
DEIVIDAS STAPONKUS, Professor
DAIVA VYČINIENĖ, Professor, Habil. Dr.
RAMUNĖ BALEVIČIŪTĖ, Assoc. Professor, Dr.
GIEDRĖ BEINORIŪTĖ, Assoc. Professor, Dr.
LAIMA BUDZINAUSKIENĖ, Assoc. Professor, Dr.
LIUDAS MOCKŪNAS, Assoc. Professor
AGNIJA ŠEIKO, Assoc. Professor
GINTAUTAS VENISLOVAS, Assoc. Professor
JUDITA ŽUKIENĖ, Assoc. Professor, Dr.
MYKOLAS NATALEVIČIUS, Lecturer, Dr.
DEIVIDAS BARTKUS, Student
AISTĖ REKAŠIŪTĖ, Student
CHARLOTTE KILSCH, Student
NEDAS LATOVINAS, Student
GABRIELĖ PELAKAUSKAITĖ, Student